17 June 2019
Spargi is the emblem of the wildest and most authentic nature of the the Maddalena National Park. it is an almost completely uninhabited, rich in vegetation, streams and animal species protected by the park authority.
The island's beaches are among the most loved in the Maddalena archipelago, because of their incomparable beauty.
You can reach Spargi island by seafrom the island of La Maddalena, disembarking at the dock of Cala Corsara. Pay attention! Remember to always check if there are navigation constraints in the National Park.
The remains of a roman ship dating back to the second century BC have been found on the seabed in front of Cala Corsara. Potete vedere i resti del relitto You can see the remains of the wreck and find out more about its history at the Naval museum of La Maddalena.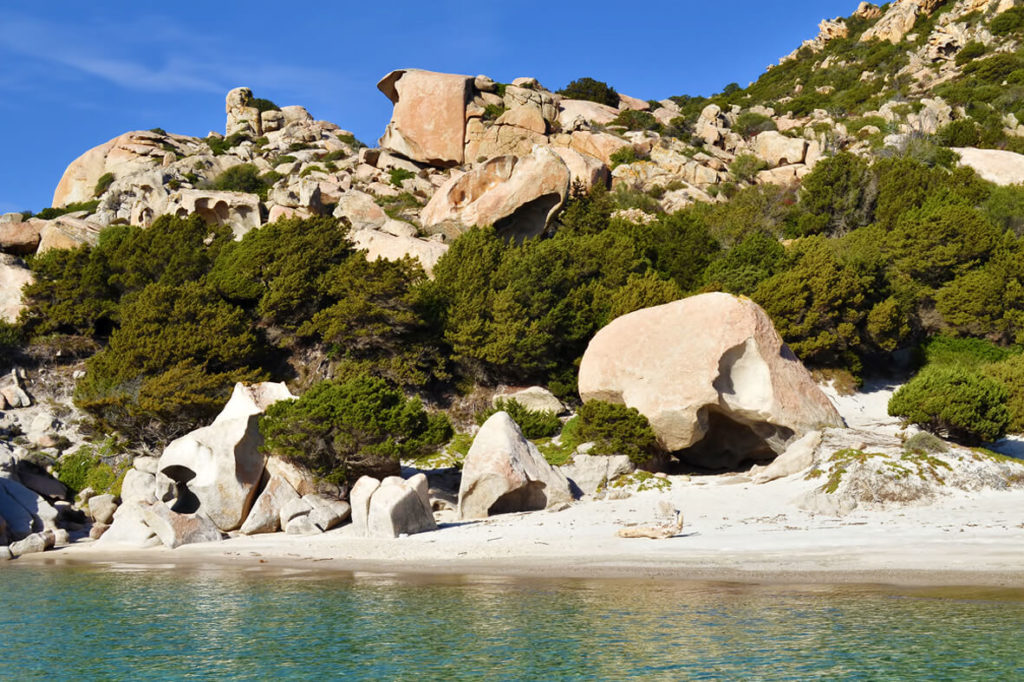 The beach of Cala Corsara
The beach of Cala Corsara is formed by four small coves, with waving dunes covered with rare and fragrant plants such as the rose and the sea lily, the juniper and the broom.
The beach is guarded by a rocky promontory that plunges into the warm blue sea. Many divers have fallen in love with Cala Corsara as there is a whole world to explore at the bottom of its sea.
The beach of Cala d'Alga
A promontory divides Cala Corsara from Cala d'Alga, a beautiful inlet that hosts several posidonia seaweeds, transported by sea currents. The beach is made of snow-white sand, with soft fine grains, and it is bordered by light-coloured granite rocks.
The sea is shallow and studded with rocks which makes the landscape very evocative. Here you are unlikely to meet many tourists. Also for this reason, the place is suitable for families with children and for underwater swimming enthusiasts.
Cala d'Alga can only be reached by sea. This makes it a really exclusive destination.
Other wonderful beaches on Spargi island, where you can spend sun-drenched holidays, are:
Cala Soraya;
Cala Granara;
Cala Conneri.